$8.95 Flat Rate Shipping: Stock up on all the honey goodies you can get for one flat shipping rate! Applies to UPS Ground shipments to one continental US Address. *Each additional address shipped to will receive an $8.95 shipping charge. **12 lb and 40 lb Buckets will have an $8.95 charge per bucket
Shipping to more than one address? Dont worry, bee happy! Go ahead and pick all of your items out now and distribute them to each individual address while checking out. The bees are always trying to make things easier for you.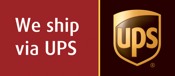 Estimated UPS Ground Transit Times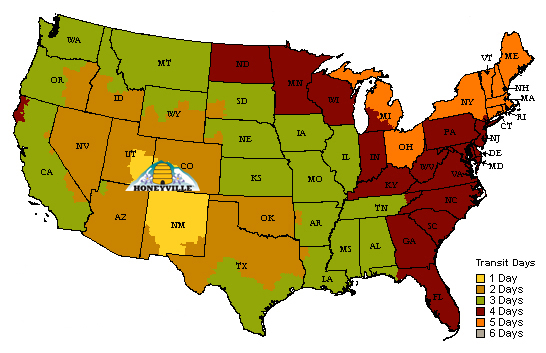 FAQs:
When will my order ship?
Honeyville strives to get your order out the door and on its way to you as fast as possible. Internet and phone orders placed before 3:00 PM Mountain Time usually ship the same day the order is placed. During the busy Holiday Season some orders may not ship the same day due to the large volume of orders.
What carrier will be delivering my package?
Packages are shipped via UPS Ground.  Please specify street, drive, circle, etc and suite or apt number to ensure prompt delivery.
The following options are also available, with ADDITIONAL CHARGES ADDED TO YOUR INVOICE TOTAL
UPS 3 Day Select
UPS 2nd Day Air
USPS Priority Mail

PO Boxes
APOs
FPOs
Hawaii and Alaska Shipments
International Shipments-please inquire
Can Honeyville products be shipped year round?
All Honeyville Products can be shipped year round, but hot and cold weather can have an effect on Honeyville Specialty Whipped Honeys.
Cold Weather – Simply let the product sit at room temperature and it will return to its spreadable texture
Hot Weather – Shipments containing Honeyville Specialty Whipped Honeys may be delayed until the beginning of the following shipping week to avoid unnecessary heat exposure
Will Gifts contain paperwork showing the prices?
All gifts sent from Honeyville will NOT include any kind of pricing. Only a packing slip and a personalized message (filled out during checkout) will be included with any gifts.
Does Honeyville ship Internationally?
Yes. USPS will be used for international shipments and additional charges may apply. Please call to place international orders. 800-676-7690
How much does it cost to ship Wedding Favors?
Wedding Favors cost $19.95 to ship in Colorado and $24.95 for all other continental United States shipments. Please call 800-676-7690 for any shipments outside of the Continental United States for a shipping price.
Other Questions:
If you have any other questions please call our customer service team at 800-676-7690